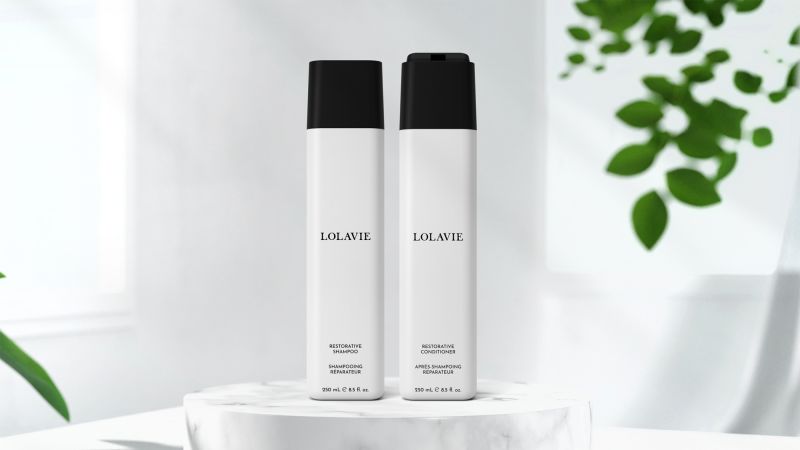 In the realm of Hollywood's iconic hair, Jennifer Aniston reigns supreme. Her ever-evolving, envy-inducing locks have been a constant source of hair inspiration for decades. From "The Rachel" that defined a generation to her present-day tousled, impeccably highlighted mane, Aniston's hair epitomizes effortless perfection.
For those yearning to capture a piece of that glamour, the wait is finally over. Jennifer Aniston's hair care line, LolaVie, has unveiled its much-anticipated shampoo and conditioner—a dynamic duo poised to bring you two steps closer to the pinnacle of hair excellence.
The Magic in the Bottles
LolaVie's Restorative Shampoo and Restorative Conditioner harness the power of botanical wonders and modern science to rejuvenate and nourish your hair. Let's delve into what makes these products worthy of your attention.
1. Ingredients That Heal and Protect
Shampoo: Infused with vegetable ceramides, botanical extracts, and essential B vitamins like niacinamide and biotin, LolaVie's shampoo takes on the role of a healing elixir. It not only repairs existing damage but acts as a formidable shield against future harm.
Conditioner: Boasting a remarkable 99% naturally derived formula, the conditioner pampers your hair and scalp with a vegan keratin complex and botanical extracts sourced from coconut, jackfruit, and orange. This rich blend of ingredients ensures deep hydration and nourishment, transforming your hair from the inside out.
2. An Unconventional Approach to Launching Products
LolaVie's journey is marked by its unconventional approach to product launches. Unlike most brands that flood the market with a myriad of offerings, Aniston's brand focused on innovation and perfected its formulations before making each product available. This methodical approach culminated in the launch of the shampoo and conditioner—a full year after the brand's debut.
Aniston shared her insight on this strategy, saying, "Sure, shampoo and conditioner feel like the easiest and most obvious products to launch with, but we also wanted to get those right because there are so many shampoos and conditioners out there."
A Glimpse into Glamorous Packaging
Before we dive into the results of these products, it's essential to appreciate the packaging. LolaVie's commitment to an aesthetic that's simultaneously glamorous and minimalist is evident in its chic, black-and-white, rectangular-shaped vessels. They exude an air of sophistication, mirroring Aniston's own style.
Jennifer Aniston shared her perspective on the design process, revealing, "There are so many levels of creating this product, from what's inside the bottles, but then also figuring out the bottles themselves—the shapes and the size. 'Less is more' was definitely what we kept landing on. Something that would look beautiful in your shower and isn't busy."
A Journey through the Senses
Now, let's explore the performance of LolaVie's Restorative Shampoo and Conditioner.
What We Loved
Luxurious Scents: Both products boast delightful scents carefully curated to offer a spa-like experience rather than an overpowering perfume. Aniston's dedication to crafting these aromas is evident, as she sought feedback from both female and male friends to strike the perfect olfactory balance.
Plant-Based Goodness: The formulas of the shampoo and conditioner are brimming with plant-based ingredients. The shampoo is 96% naturally derived, while the conditioner reaches an impressive 99%. They not only repair but also protect your hair using ingredients like avocados, peas, rice, coffee, grapes, chickpeas, and acai.
Visible Results: Our reviewer tested both products for a week. The shampoo delivered a satisfying, scalp-tingling lather, while the conditioner effortlessly tamed, hydrated, and detangled the hair. Post-shower, the Glossing Detangler and Perfect Leave-In completed the routine. The result? Remarkable shine, amplified volume, and noticeably less frizz and flyaways. These products breathed new life into hair that had faced the trials of a long summer of pool and beach visits. Hair remained cleaner for more extended periods, and a once-every-other-day routine turned into a refreshing three days without greasiness.
The Price Tag
If we were to nitpick, it would be about the price. While it's on par with other luxury hair care products, the $29 cost for each bottle (totaling $58 for both) might be less accessible to some. However, the quality and results they deliver make them well worth the investment.
In conclusion, LolaVie's Restorative Shampoo and Conditioner are a testament to the brand's commitment to excellence. They not only deliver on their promises but also elevate your hair care routine to a new level of sophistication. While they might not instantly transform you into Jennifer Aniston, they will undoubtedly enhance the radiance of your locks. These bottles aren't just products—they're an invitation to experience the art of hair care at its finest.